This product is loaded with a huge collection of essential elements to make journal creation easy and fast so that all you really need is to take action!
Here's what you get with your purchase:
1 – Book Cover
2- Inside Pages
Lined Pages with "Color-able" Shapes
Lined Pages (Dated)
Lined Pages (Space for Images)
Lined Pages (Undated)
Page – Bullet/Dot
Page – Dedicated to
Page – This Belongs to
Page – Dividers
Page – Doodle
Page – Frames
Page – Grid/Graph
Page – Samples Copyright etc.
Page – Sketch
3- Working File with Guide
Work File (Dummy Journal)
Journal Creator Starter Kit Guide (Tutorial)
Starter PPT Page with Set Margins
4 – Simple DFY Journals (8.5″X11″)
Dot Journal
Graphing Notebook
Simple Lined Journal
5 – Resources
2020 Collection of Inspirational Quotes
2020 Collection of Journal Prompts
KDP Templates
Line Art Patterns (30)
Directory of PLR Providers
PLR License
Heads up! You need Microsoft PowerPoint for this.
Whether –
creating a journal for yourself or as a side hustle
you've done one or still thinking
an intermediate or a complete newbie
you've all figured all out or at a loss on what to do with your mega collection of PLR journals
This kit has all the tools for you to pursue journal creation as a side hustle or simply to create that "perfect" journal for yourself!
Check out what's inside this kit.
1) Cover Pages
2) Inside Pages


You have a wide selection of templates to choose from. Use one template and multiply it to as many pages as you want.
Use all or a few, reorder, add new pages, mix and match, it's your choice.
If you don't have the perfect look, why not create your own?
You don't know how?
3) Working File with Tutorial
If still groping in the dark…
There is your Journal Creator Starter Kit Guide (Tutorial) that walks you through the steps to create the templates in PowerPoint.
You simply…
Open your PPT guide
Follow the steps
Apply your learning
Practice, practice, practice
Modify or customize
Create your own templates
Create and save your journal.
This kit has your back covered!
4) Simple Done-for-You Journal Files
You have 3 simple DFY journal files:
Dot Journal
Graphing Notebook
Simple Lined Journal
Just create a gorgeous cover and craft a great title and you're good to go!
5) Resources
The kit includes these convenient time-savers:
30 Line Art Patterns
2020 Collection of Inspirational Quotes
2020 Collection of Prompts
Directory of PLR Providers
KDP templates
PLR License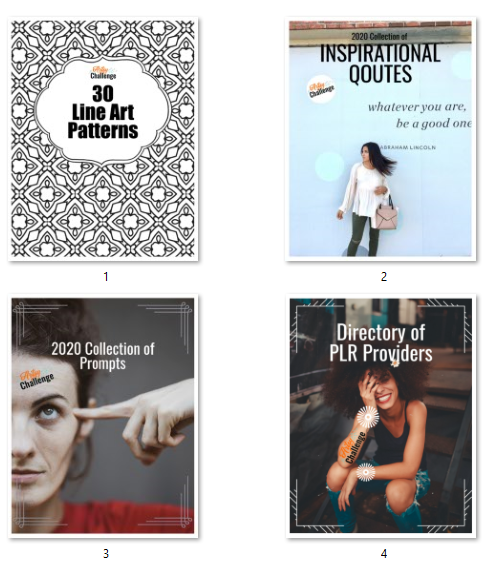 PLR Terms of Use
[YES] Modify, package and rebrand this product in part or whole;
[YES] Do as you please as long as you label or brand it;
[YES] Sell your branded product as your own at Etsy and/or other marketplaces;
[NO] Pass on PLR, resell rights or master resell rights for this product;
[NO] Share this product to anyone or anywhere online;
[NO] Claim copyright ownership of the original work.
Refund Policy
Due to the nature of this product, a sale is considered final and no refunds, substitutions, or exchanges shall be given.